Alpine Lodge Mobile Home
Combination Pitch Roof with Minimal Soffit and Fascia.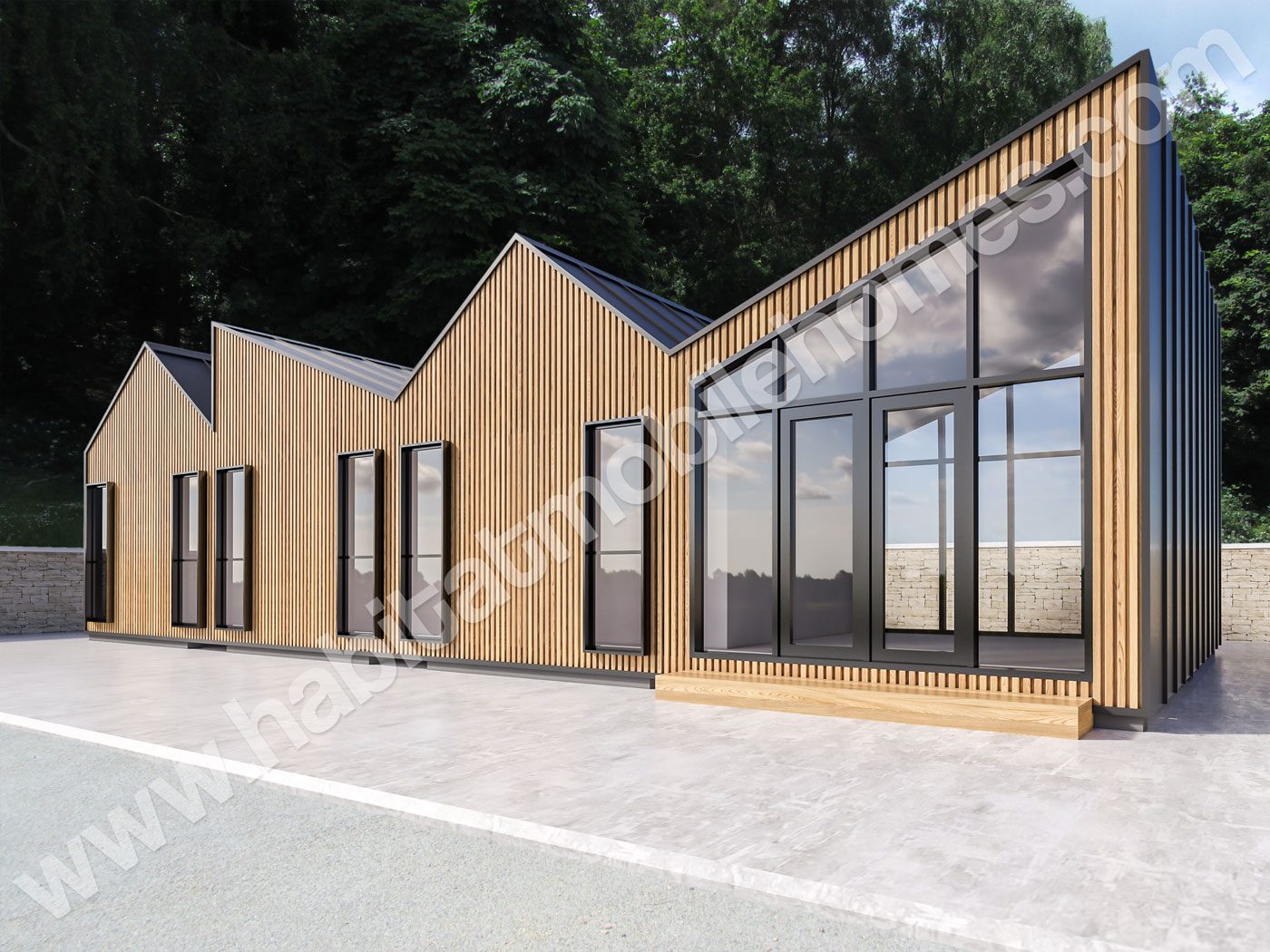 Features:
combination pitch roof

minimal soffit and fascia

vertical cladding

boxed windows
At Habitat Mobile Homes Ltd, we are proud to introduce our Alpine Lodge model, featuring a sleek combination pitch roof and minimalist soffit and fascia design. The Alpine Lodge also boasts vertical cladding and boxed windows, giving it a modern aesthetic. These features come together to create a comfortable living space with a touch of rustic charm. In addition to its attractive exterior design, the Alpine Lodge also offers plenty of customizable options for the interior layout. With its versatility and unique style, the Alpine Lodge is sure to be a hit among our customers. Contact us today for more information about this exciting new model.
At Habitat, we pride ourselves on the quality of our mobile homes. We use only the finest materials and construction techniques to ensure that our homes are built to last. One of the key features of this design is the combination pitch roof. The combination pitch roof also provides extra headroom inside the home, making it more comfortable to live in. Another feature of our homes is the vertical cladding. This gives the home a modern look and feel, while also providing additional protection against the elements. The final feature of our homes is the boxed windows. These windows allow natural light to enter the home, while also providing excellent ventilation. We believe that these features make our homes some of the best on the market. If you are looking for a quality mobile home, then Habitat is the perfect choice for you.
Looking for something a little different in your next home? Check out Habitat Mobile Homes Ltd's latest design: the Multi Pitch Roof. This unique roofline is not only eye-catching, but it's also functional. The pitch of the roof provides extra headroom inside the home, making it ideal for a home studio or gym. And because the roof slopes in multiple directions, it helps to deflect rain and snow. So if you're looking for a truly unique home that can also meet your functional needs, be sure to check out the Multi Pitch Roof from Habitat Mobile Homes Ltd.