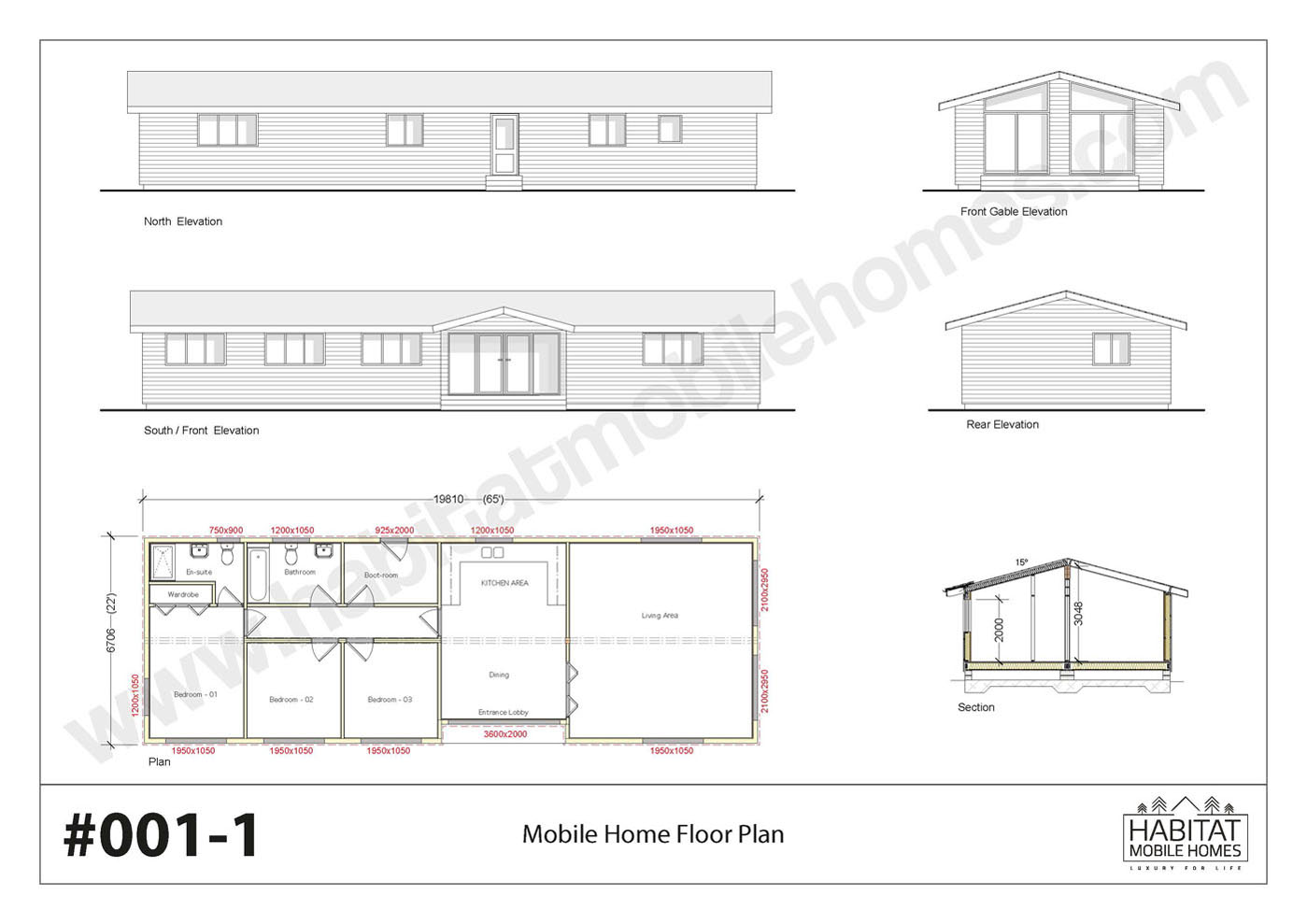 MOBILE HOME PRICES
At Habitat Mobile Homes Ltd, we pride ourselves on being able to provide our customers with high-quality homes at competitive prices.
2023 LAUNCH NEW ECONOMY FRAME: We understand that, in today's economy, many people are facing financial challenges, and we want to do everything we can to help. That's why we've decided to launch a new Economy frame that is more affordable than our standard build. We've made some changes to the materials but the construction methods are the same. Insulation is Loft roll not Mineral Wool Batts, and is supply only. The largest saving is switching to Solid Timber Trusses and Joists from the more expensive Metal Web Joists and finally just one layer of 22mm Chipboard Flooring, our luxury frame specification has two. Overall offering a saving over 10%.
HOW OUR PRICING WORKS: For the Timber Frame Structures, we believe that our prices are the best in the business. The price for the Timber Frame Structure is Fixed Fee and manufactured and assembled by us with our full time staff. For internal and external finishing, we normally supply all the materials at gross cost price on a pay-as-you-go basis, and source the labor locally to you by sub-contracting. We charge a fixed Main Contractor Fee for works after the frame completion, which covers purchasing, project managing sub-contractors, and site inspections. This type of building contract is cost called 'Cost Plus' and is really the best way to conduct a build as it gives the customer control over budgets and all materials choices.
TIMBER FRAME STRUCTURE (WATER-TIGHT) - INHOUSE - FIXED FEE
This is the fixed price for design, manufacture and onsite assembly of the timber frame structure. Left with roof felted and exterior walls covered with breather membrane, all internal walls fitted. Ready for finishing.
EXTERNAL AND INTERNAL FINISH - VARIABLE PRICE NO PROFIT ADDED
We supply all the materials for the home at cost price. Labour is sourced locally and also charged at cost price. You can alternatively choose to conduct this phase yourselves with our frame only self build package.
MAIN CONTRACTOR FIXED FEE - OPTIONAL
Our fixed charge for internal and external finish sub-contraction, project management and site visits.
THIS IS THE PRICE FOR THE TIMBER FRAME STRUCTURE ONLY FULLY DELIVERED AND ASSEMBLED ONSITE - ECONOMY SPECIFICATION AND OUR STANDARD BUILD REG SPEC. 
ECONOMY

TIMBER FRAME, DESIGN MANUFACTURE,  DELIVER AND ASSEMBLE

£64,865.18

TOP SPEC

TIMBER FRAME, DESIGN MANUFACTURE,  DELIVER AND ASSEMBLE

£76,132.84
THIS IS THE DIFFERENT SPECIFICATION BETWEEN THE FRAMES
| | | |
| --- | --- | --- |
| STRUCTURAL TIMBER FRAME | ECONOMY | TOP SPEC |
| TIMBER FRAME STRUCTURE MANUFACTURE (OFF-SITE) | INCLUDED | INCLUDED |
| STRUCTURAL FRAME ASSEMBLY (ON-SITE) | INCLUDED | INCLUDED |
| ENGINEERING CALCULATIONS & CARAVANS CONFORMITY REPORT | INCLUDED | INCLUDED |
| Standard 15 Degree Vaulted Roof From 195 MM Metal Web Joists | INCLUDED | INCLUDED |
| TIMBER CHASSIS + WHEELS | INCLUDED | INCLUDED |
| SUPPLY INSULATION, FLOOR, WALLS, ROOF | LOFT ROLL | MINERAL WOOL |
| FIT INSULATION, WALLS, ROOF (FLOOR IS ALWAYS FITTED) | SUPPLY ONLY | SUPPLY AND FIT |
| FLOOR JOISTS | SOLID TIMBER | METAL WEB |
| ROOF TRUSSES | SOLID TIMBER | METAL WEB |
| EXTERNAL WALL TIMBERS | 140MM | 140MM |
| INTERNAL WALL TIMBERS | 89MM | 89MM |
| BOARD- UNDERSIDE FLOOR CASSETTE | 9MM PLY | 9MM PLY |
| BOARD- TOPSIDE FLOORING BOARD 22M CHIPBOARD | STANDARD | CABERDECK |
| BOARD- 2ND TOPSIDE CABERDECK MOISTURE RESISTANT CHIPBOARD FLOORING | EXCLUDED | INCLUDED |
| BOARD - EXTERNAL WALLS | 9MM OSB | 9MM PLY |
| BOARD - ROOF DECK | 18MM OSB | 18MM OSB |
| RIDGE BEAM | GLULAM | GLULAM |
| MAINLAND UK DELIVERY | INCLUDED | INCLUDED |
| FULL ASSEMBLY ONSITE OF THE STRUCTURE | INCLUDED | INCLUDED |
ECONOMY SPECIFICATION - THE LOWEST COST OPTIONS - BS:3632 STANDARD
- THIS IS THE FULLY FINISHED AND UK DELIVERED £ PRICE (TURN-KEY)
ECONOMY SPECIFICATION - THE LOWEST COST OPTIONS - BS:3632 STANDARD
INCLUDED

ECONOMY

TIMBER FRAME, DESIGN MANUFACTURE,  DELIVER AND ASSEMBLE

PRICE £GBP
£64,865.18
MAIN CONTRACTOR FEE

   

(NOT CHARGED FOR SELF BUILD / DIY PACKAGES)

PRICE £GBP
£9,600.62
ITEM
LABOUR
MATERIAL
TOTAL
WINDOWS - UPVC Plastic in White
£2,790.68
£4,654.00
£7,444.68
ROOF FINISH - CORRUGATED BLACK BITUMEN ROOF SHEET
£1,801.08
£1,638.31
£3,439.38
CLADDING - TIMBER - SOFTWOOD - UNFINISHED FEATHER-EDGE
£2,955.20
£2,692.48
£5,647.68
SOFFIT & FASCIA -PLY BOARD
£826.81
£421.45
£1,248.26
RAINWATER - UPVC PLASTIC
£297.60
£611.84
£909.44
PLASTERBOARD
£3,026.93
£3,345.49
£6,372.42
TAPE AND JOINT BOARDS _ READY FOR DECORATING
£1,446.46
£279.96
£1,726.42
HEATING - ELECTRIC PANEL HEATERS + SINGLE POINT WATER HEATERS
£1,645.00
£1,949.00
£3,594.00
PLUMBING 1st and BASIC 2nd FIX
£2,197.00
£2,695.00
£4,892.00
ELECTRICS 1st and BASIC 2nd FIX
£3,577.36
£3,712.37
£7,289.73
CARPENTRY - BASIC PANEL DOORS, SOFTWOOD LINING, FURNITURE
£1,068.72
£1,705.64
£2,774.36
CARPENTRY - MDF SKIRTING, ARCHITRAVE AND SILLS
£519.40
£657.70
£1,177.10
FLOORING - CARPET
£623.50
£1,870.51
£2,494.01
BATHROOM TILING - VINYL SHEET TILING
£288.00
£240.00
£528.00
KITCHEN - BASIC WORKTOP AND UNITS
£1,140.00
£4,500.00
£5,640.00
DECORATING - STANDARD DECORATING WALLS AND CEILING
£3,065.02
£478.91
£3,543.93
DECORATING - SKIRTING GLOSS  (PRICE INCLUDES MATERIALS)
£544.50
£0.00
£544.50
TOTAL ESTIMATED PRICE
£27,813.26
£31,452.65
£59,265.91
GRAND TOTAL TURK-KEY PRICE
TOTAL PRICE
£133,731.71
GOOD SPECIFCATION WITH THERMOWOOD TIMBER CLADDING - BS:3632 STANDARD
- THIS IS THE FULLY FINISHED AND UK DELIVERED £ PRICE (TURN-KEY)
GOOD SPECIFCATION WITH THERMOWOOD TIMBER CLADDING - BS:3632 STANDARD
INCLUDED

ECONOMY

TIMBER FRAME, DESIGN MANUFACTURE,  DELIVER AND ASSEMBLE

£64,865.18
MAIN CONTRACTOR FEE

   

(NOT CHARGED FOR SELF BUILD / DIY PACKAGES)

£9,600.62
ITEM
LABOUR
MATERIAL
TOTAL
WINDOWS - UPVC Plastic in Colour or Wood Effect
£2,790.68
£6,515.60
£9,306.28
ROOF FINISH - CORRUGATED BLACK BITUMEN ROOF SHEET
£1,801.08
£1,638.31
£3,439.38
CLADDING - TIMBER -THERMOWOOD
£2,955.20
£5,325.88
£8,281.08
SOFFIT & FASCIA - TIMBER -  THERMOWOOD
£1,427.25
£1,067.52
£2,494.77
RAINWATER - UPVC PLASTIC
£297.60
£611.84
£909.44
PLASTERBOARD
£3,026.93
£3,345.49
£6,372.42
TAPE AND JOINT BOARDS - READY FOR DECORATING
£1,446.46
£279.96
£1,726.42
HEATING - BASIC COMBINATION BOILER WITH  CONVECTION RADIATORS (oil or gas)
£3,220.00
£4,400.00
£7,620.00
PLUMBING 1st and BASIC 2nd FIX
£2,197.00
£2,695.00
£4,892.00
ELECTRICS 1st and BASIC 2nd FIX
£3,577.36
£3,712.37
£7,289.73
CARPENTRY - BASIC PANEL DOORS, SOFTWOOD LINING, FURNITURE
£1,068.72
£1,705.64
£2,774.36
CARPENTRY - MDF SKIRTING, ARCHITRAVE AND SILLS
£519.40
£657.70
£1,177.10
FLOORING - LAMINATE OAK EFFECT
£1,808.16
£1,745.81
£3,553.96
BATHROOM TILING - BATHROOM TILING - CERAMIC TILED WALLS
£608.00
£480.00
£1,088.00
KITCHEN - BASIC WORKTOP AND UNITS
£1,140.00
£4,500.00
£5,640.00
DECORATING - STANDARD DECORATING WALLS AND CEILING
£3,065.02
£478.91
£3,543.93
DECORATING - SKIRTING GLOSS  (PRICE INCLUDES MATERIALS)
£544.50
£0.00
£544.50
TOTAL ESTIMATED PRICE
£31,493.36
£39,160.02
£70,653.38
GRAND TOTAL TURK-KEY PRICE
TOTAL PRICE
£145,119.17
NEW ENGLAND STYLE - HIGH SPECIFICATION / BUILDING REGULATION STANDARD
- THIS IS THE FULLY FINISHED AND UK DELIVERED £ PRICE (TURN-KEY)
NEW ENGLAND STYLE  - HIGH SPECIFICATION / BUILDING REGULATION STANDARD
INCLUDED
TOP SPEC TIMBER FRAME, DESIGN MANUFACTURE,  DELIVER AND ASSEMBLE
£76,132.84
MAIN CONTRACTOR FEE

   

(NOT CHARGED FOR SELF BUILD / DIY PACKAGES)

£9,600.62
ITEM
LABOUR
MATERIAL
TOTAL
WINDOWS - UPVC Plastic in Colour or Wood Effect
£2,790.68
£6,515.60
£9,306.28
ROOF FINISH - MACHINE MADE SLATE 300x600 TILES (30 degree plus roof)
£6,424.07
£4,391.23
£10,815.30
CLADDING - WEATHERBOARD (CEMENT FIBRE)
£2,631.80
£4,436.39
£7,068.19
SOFFIT & FASCIA -UPVC PLASTIC  FOAMBOARD WOOD EFFECT or COLOUR
£906.66
£1,862.16
£2,768.81
RAINWATER - UPVC PLASTIC
£297.60
£611.84
£909.44
PLASTERBOARD
£3,026.93
£3,345.49
£6,372.42
PLASTER SKIM
£4,666.00
£573.92
£5,239.92
UPGRADE INSULATED PLASTERBOARD TO EXTERNAL WALLS
£1,102.55
£2,047.60
£3,150.15
HEATING - BASIC COMBINATION BOILER WITH  CONVECTION RADIATORS (oil or gas)
£3,220.00
£4,400.00
£7,620.00
PLUMBING 1st and BASIC 2nd FIX
£2,197.00
£2,695.00
£4,892.00
ELECTRICS 1st and BASIC 2nd FIX
£3,577.36
£3,712.37
£7,289.73
CARPENTRY - QUALITY DOORS, SOFTWOOD LINING, FURNITURE
£1,068.72
£3,105.64
£4,174.36
CARPENTRY - MDF SKIRTING, ARCHITRAVE AND SILLS
£519.40
£657.70
£1,177.10
FLOORING - LAMINATE OAK EFFECT
£1,808.16
£1,745.81
£3,553.96
BATHROOM TILING - BATHROOM TILING - CERAMIC TILED WALLS
£608.00
£480.00
£1,088.00
KITCHEN - BASIC WORKTOP AND UNITS
£1,140.00
£4,500.00
£5,640.00
DECORATING - STANDARD DECORATING WALLS AND CEILING
£3,065.02
£478.91
£3,543.93
DECORATING - SKIRTING GLOSS  (PRICE INCLUDES MATERIALS)
£544.50
£0.00
£544.50
TOTAL ESTIMATED PRICE
£39,594.45
£45,559.64
£85,154.09
GRAND TOTAL TURK-KEY PRICE
TOTAL PRICE
£170,887.55
CONTEMPORARY STYLE - HIGH SPECIFICATION / BUILDING REGULATION STANDARD
- THIS IS THE FULLY FINISHED AND UK DELIVERED £ PRICE (TURN-KEY)
CONTEMPORARY STYLE - HIGH SPECIFICATION / BUILDING REGULATION STANDARD
INCLUDED
TOP SPEC TIMBER FRAME, DESIGN MANUFACTURE,  DELIVER AND ASSEMBLE
£76,132.84
MAIN CONTRACTOR FEE

   

(NOT CHARGED FOR SELF BUILD / DIY PACKAGES)

£9,600.62
ITEM
LABOUR
MATERIAL
TOTAL
WINDOWS - ALUMINIUM
£2,790.68
£14,786.68
£17,577.35
ROOF FINISH - MACHINE MADE SLATE 300x600 TILES (30 degree plus roof)
£6,424.07
£4,391.23
£10,815.30
ROOF FINISH - SLATE COMPOSITE INTERLOCKING TILES     (15 degree plus roof)
£7,131.76
£7,515.68
£14,647.45
CLADDING - COMPOSITE WOODGRAIN PVC
£2,308.40
£5,873.72
£8,182.12
SOFFIT & FASCIA -UPVC PLASTIC  FOAMBOARD WOOD EFFECT or COLOUR
£906.66
£1,862.16
£2,768.81
RAINWATER - UPVC PLASTIC
£297.60
£611.84
£909.44
PLASTERBOARD
£3,026.93
£3,345.49
£6,372.42
PLASTER SKIM
£4,666.00
£573.92
£5,239.92
UPGRADE INSULATED PLASTERBOARD TO EXTERNAL WALLS
£1,102.55
£2,047.60
£3,150.15
HEATING - BASIC COMBINATION BOILER WITH  CONVECTION RADIATORS (oil or gas)
£3,220.00
£4,400.00
£7,620.00
PLUMBING 1st and BASIC 2nd FIX
£2,197.00
£2,695.00
£4,892.00
ELECTRICS 1st and BASIC 2nd FIX
£3,577.36
£3,712.37
£7,289.73
CARPENTRY - QUALITY DOORS, SOFTWOOD LINING, FURNITURE
£1,068.72
£3,105.64
£4,174.36
CARPENTRY - MDF SKIRTING, ARCHITRAVE AND SILLS
£519.40
£657.70
£1,177.10
FLOORING - LAMINATE OAK EFFECT
£1,808.16
£1,745.81
£3,553.96
KITCHEN - BASIC WORKTOP AND UNITS
£1,140.00
£4,500.00
£5,640.00
DECORATING - STANDARD DECORATING WALLS AND CEILING
£3,065.02
£478.91
£3,543.93
DECORATING - SKIRTING GLOSS  (PRICE INCLUDES MATERIALS)
£544.50
£0.00
£544.50
TOTAL ESTIMATED PRICE
£45,794.81
£62,303.74
£108,098.55
GRAND TOTAL TURK-KEY PRICE
TOTAL PRICE
£193,832.01
HIGHEST SPECIFICATION - MOST EXPENSIVE OPTIONS - BUILDING REGULATION STANDARD -
- THIS IS THE FULLY FINISHED AND UK DELIVERED £ PRICE (TURN-KEY)
HIGHEST SPECIFICATION - MOST EXPENSIVE OPTIONS -  BUILDING REGULATION STANDARD
INCLUDED
TOP SPEC TIMBER FRAME, DESIGN MANUFACTURE,  DELIVER AND ASSEMBLE
£76,132.84
MAIN CONTRACTOR FEE

   

(NOT CHARGED FOR SELF BUILD / DIY PACKAGES)

£9,600.62
ITEM
LABOUR
MATERIAL
TOTAL
WINDOWS - ALUMINIUM OUTSIDE TIMBER INSIDE
£2,790.68
£22,705.68
£25,496.35
WINDOWS - VELUX ROOF LIGHTS & SUN TUNNELS
£0.00
£0.00
£0.00
ROOF FINISH - CLAY TILES
£8,193.30
£7,664.30
£15,857.60
CLADDING - MILLBOARD - WPC WOOD COMPOSITE
£2,946.86
£10,930.23
£13,877.08
SOFFIT & FASCIA -ALUMINIUM (powder-coated in any colour)
£1,871.81
£2,584.85
£4,456.66
RAINWATER - ALUMINIUM (powder coated in any colour)
£579.20
£1,673.12
£2,252.32
PLASTERBOARD
£3,026.93
£3,345.49
£6,372.42
PLASTER SKIM
£4,666.00
£573.92
£5,239.92
UPGRADE INSULATED PLASTERBOARD TO EXTERNAL WALLS
£1,102.55
£2,047.60
£3,150.15
PLUMBING 1st and BASIC 2nd FIX
£2,197.00
£2,695.00
£4,892.00
ELECTRICS 1st and BASIC 2nd FIX
£3,577.36
£3,712.37
£7,289.73
HEATING - ELECTRIC HEATING AND WATER SYSTEM
£3,180.00
£4,095.00
£7,275.00
CARPENTRY - QUALITY DOORS, SOFTWOOD LINING, FURNITURE
£1,068.72
£3,105.64
£4,174.36
CARPENTRY - OAK LAMINATE SKIRTING, ARCHITRAVE AND SILLS
£519.40
£864.01
£1,383.41
FLOORING - REAL OAK ENGINEERED FLOORING
£1,750.79
£4,364.51
£6,115.31
BATHROOM TILING - MARBLE, TRAVERTINE, NATURAL STONE
£720.00
£880.00
£1,600.00
KITCHEN - LUXURY
£1,710.00
£8,100.00
£9,810.00
DECORATING - STANDARD DECORATING WALLS AND CEILING
£3,065.02
£478.91
£3,543.93
DECORATING - DOOR FINISH OIL (PRICE INCLUDES MATERIALS)
£603.46
£0.00
£603.46
DECORATING - SKIRTING OIL  (PRICE INCLUDES MATERIALS)
£204.10
£0.00
£204.10
TOTAL ESTIMATED PRICE
£43,773.19
£79,820.62
£123,593.81
GRAND TOTAL TURK-KEY PRICE
TOTAL PRICE
£209,327.26
PRICE INDEX ALL FINISHING ITEMS
| | | | |
| --- | --- | --- | --- |
| ITEM | LABOUR | MATERIAL | TOTAL |
| WINDOWS - UPVC Plastic in White | £2,790.68 | £4,654.00 | £7,444.68 |
| WINDOWS - UPVC Plastic in Colour or Wood Effect | £2,790.68 | £6,515.60 | £9,306.28 |
| WINDOWS - TIMBER Softwood Factory Painted or Stained | £2,790.68 | £12,564.08 | £15,354.75 |
| WINDOWS - ALUMINIUM | £2,790.68 | £14,786.68 | £17,577.35 |
| WINDOWS - ALUMINIUM OUTSIDE TIMBER INSIDE | £2,790.68 | £22,705.68 | £25,496.35 |
| WINDOWS - VELUX ROOF LIGHTS & SUN TUNNELS | £0.00 | £0.00 | £0.00 |
| ROOF FINISH - FELT SHINGLES | £1,978.00 | £3,007.69 | £4,985.69 |
| ROOF FINISH - CORRUGATED BLACK BITUMEN ROOF SHEET | £1,801.08 | £1,638.31 | £3,439.38 |
| ROOF FINISH - METROTILE (Sheet Steel Roofing with Shingle Finish) (15 degree plus roof) | £3,416.38 | £5,427.99 | £8,844.38 |
| ROOF FINISH - MACHINE MADE SLATE 300x600 TILES (30 degree plus roof) | £6,424.07 | £4,391.23 | £10,815.30 |
| ROOF FINISH - SLATE COMPOSITE INTERLOCKING TILES | £7,131.76 | £7,515.68 | £14,647.45 |
| ROOF FINISH - CLAY TILES   (15 degree plus roof) | £8,193.30 | £7,664.30 | £15,857.60 |
| ROOF FINISH - EPDM RUBBER | £1,167.69 | £3,396.92 | £4,564.61 |
| ROOF FINISH - SHEET METAL STEEL COATED (RAISED-TIE) | £2,898.00 | £8,764.76 | £11,662.76 |
| CLADDING - TIMBER - WESTERN RED CEDAR (PEFC Certified) NO.2.CLEAR | £2,955.20 | £12,534.00 | £15,489.20 |
| CLADDING - TIMBER - SIBERIAN LARCH - UNSORTED GRADE 1-3 | £2,955.20 | £6,850.48 | £9,805.69 |
| CLADDING - TIMBER -THERMOWOOD | £2,955.20 | £5,325.88 | £8,281.08 |
| CLADDING - TIMBER - BLACK FEATHER EDGE SOFTWOOD | £2,955.20 | £4,734.52 | £7,689.72 |
| CLADDING - TIMBER - SOFTWOOD - UNFINISHED FEATHER-EDGE | £2,955.20 | £2,692.48 | £5,647.68 |
| CLADDING - WEATHERBOARD (CEMENT FIBRE) | £2,631.80 | £4,436.39 | £7,068.19 |
| CLADDING - COMPOSITE WOODGRAIN PVC | £2,308.40 | £5,873.72 | £8,182.12 |
| CLADDING - MILLBOARD - WPC WOOD COMPOSITE | £2,946.86 | £10,930.23 | £13,877.08 |
| CLADDING - RENDER BOARD AND SKIM | £5,338.67 | £5,431.55 | £10,770.22 |
| CLADDING - STONE OR BRICK TILE CLADDING | £5,338.67 | £6,872.57 | £12,211.24 |
| CLADDING - SHEET METAL STEEL COATED (RAISED-TIE) | £3,078.40 | £5,337.24 | £8,415.64 |
| SOFFIT & FASCIA - UPVC PLASTIC COATED FOAM BOARD WHITE | £906.66 | £1,185.38 | £2,092.04 |
| SOFFIT & FASCIA -UPVC PLASTIC  FOAMBOARD WOOD EFFECT or COLOUR | £906.66 | £1,862.16 | £2,768.81 |
| SOFFIT & FASCIA -PLY BOARD | £826.81 | £421.45 | £1,248.26 |
| SOFFIT & FASCIA -ALUMINIUM (powder-coated in any colour) | £1,871.81 | £2,584.85 | £4,456.66 |
| SOFFIT & FASCIA -TIMBER -  CEDAR | £1,427.25 | £3,173.30 | £4,600.55 |
| SOFFIT & FASCIA - TIMBER - SIBERIAN LARCH | £1,427.25 | £1,652.46 | £3,079.71 |
| SOFFIT & FASCIA - TIMBER -  THERMOWOOD | £1,427.25 | £1,067.52 | £2,494.77 |
| RAINWATER - UPVC PLASTIC | £297.60 | £611.84 | £909.44 |
| RAINWATER - GALVANIZED STEEL | £339.20 | £665.28 | £1,004.48 |
| RAINWATER - ALUMINIUM (powder coated in any colour) | £579.20 | £1,673.12 | £2,252.32 |
| PLASTERBOARD | £3,026.93 | £3,345.49 | £6,372.42 |
| PLASTER SKIM | £4,666.00 | £573.92 | £5,239.92 |
| TAPE AND JOINT BOARDS - READY FOR DECORATING | £1,446.46 | £279.96 | £1,726.42 |
| UPGRADE INSULATED PLASTERBOARD TO EXTERNAL WALLS | £1,102.55 | £2,047.60 | £3,150.15 |
| V-GROOVED MDF CLADDING | £4,292.72 | £6,261.77 | £10,554.49 |
| HEATING - BASIC COMBINATION BOILER WITH  CONVECTION RADIATORS (oil or gas) | £3,220.00 | £4,400.00 | £7,620.00 |
| HEATING - ELECTRIC HEATING AND WATER SYSTEM | £3,180.00 | £4,095.00 | £7,275.00 |
| HEATING - ELECTRIC PANEL HEATERS + SINGLE POINT WATER HEATERS | £1,645.00 | £1,949.00 | £3,594.00 |
| PLUMBING 1st and BASIC 2nd FIX | £2,197.00 | £2,695.00 | £4,892.00 |
| ELECTRICS 1st and BASIC 2nd FIX | £3,577.36 | £3,712.37 | £7,289.73 |
| CARPENTRY - BASIC PANEL DOORS, SOFTWOOD LINING, FURNITURE | £1,068.72 | £1,705.64 | £2,774.36 |
| CARPENTRY - QUALITY DOORS, SOFTWOOD LINING, FURNITURE | £1,068.72 | £3,105.64 | £4,174.36 |
| CARPENTRY - MDF SKIRTING, ARCHITRAVE AND SILLS | £519.40 | £657.70 | £1,177.10 |
| CARPENTRY - OAK LAMINATE SKIRTING, ARCHITRAVE AND SILLS | £519.40 | £864.01 | £1,383.41 |
| FLOORING - LAMINATE OAK EFFECT | £1,808.16 | £1,745.81 | £3,553.96 |
| FLOORING - REAL OAK ENGINEERED FLOORING | £1,750.79 | £4,364.51 | £6,115.31 |
| FLOORING - VINYL FLOORING | £523.74 | £2,244.61 | £2,768.35 |
| FLOORING - CARPET | £623.50 | £1,870.51 | £2,494.01 |
| FLOORING - CERAMIC TILED FLOOR | £4,364.51 | £3,741.01 | £8,105.53 |
| FLOORING - NATURAL STONE / MARBLE TILED FLOOR | £4,364.51 | £5,611.52 | £9,976.03 |
| BATHROOM TILING - BATHROOM TILING - CERAMIC TILED WALLS | £608.00 | £480.00 | £1,088.00 |
| BATHROOM TILING - MARBLE, TRAVERTINE, NATURAL STONE | £720.00 | £880.00 | £1,600.00 |
| BATHROOM TILING - VINYL SHEET TILING | £288.00 | £240.00 | £528.00 |
| KITCHEN - BASIC WORKTOP AND UNITS | £1,140.00 | £4,500.00 | £5,640.00 |
| KITCHEN - LUXURY | £1,710.00 | £8,100.00 | £9,810.00 |
| DECORATING - STANDARD DECORATING WALLS AND CEILING | £3,065.02 | £478.91 | £3,543.93 |
| DECORATING - DOOR FINISH OIL (PRICE INCLUDES MATERIALS) | £603.46 | £0.00 | £603.46 |
| DECORATING - DOOR FINISH GLOSS  (PRICE INCLUDES MATERIALS) | £1,218.52 | £0.00 | £1,218.52 |
| DECORATING - SKIRTING OIL  (PRICE INCLUDES MATERIALS) | £204.10 | £0.00 | £204.10 |
| DECORATING - SKIRTING GLOSS  (PRICE INCLUDES MATERIALS) | £544.50 | £0.00 | £544.50 |