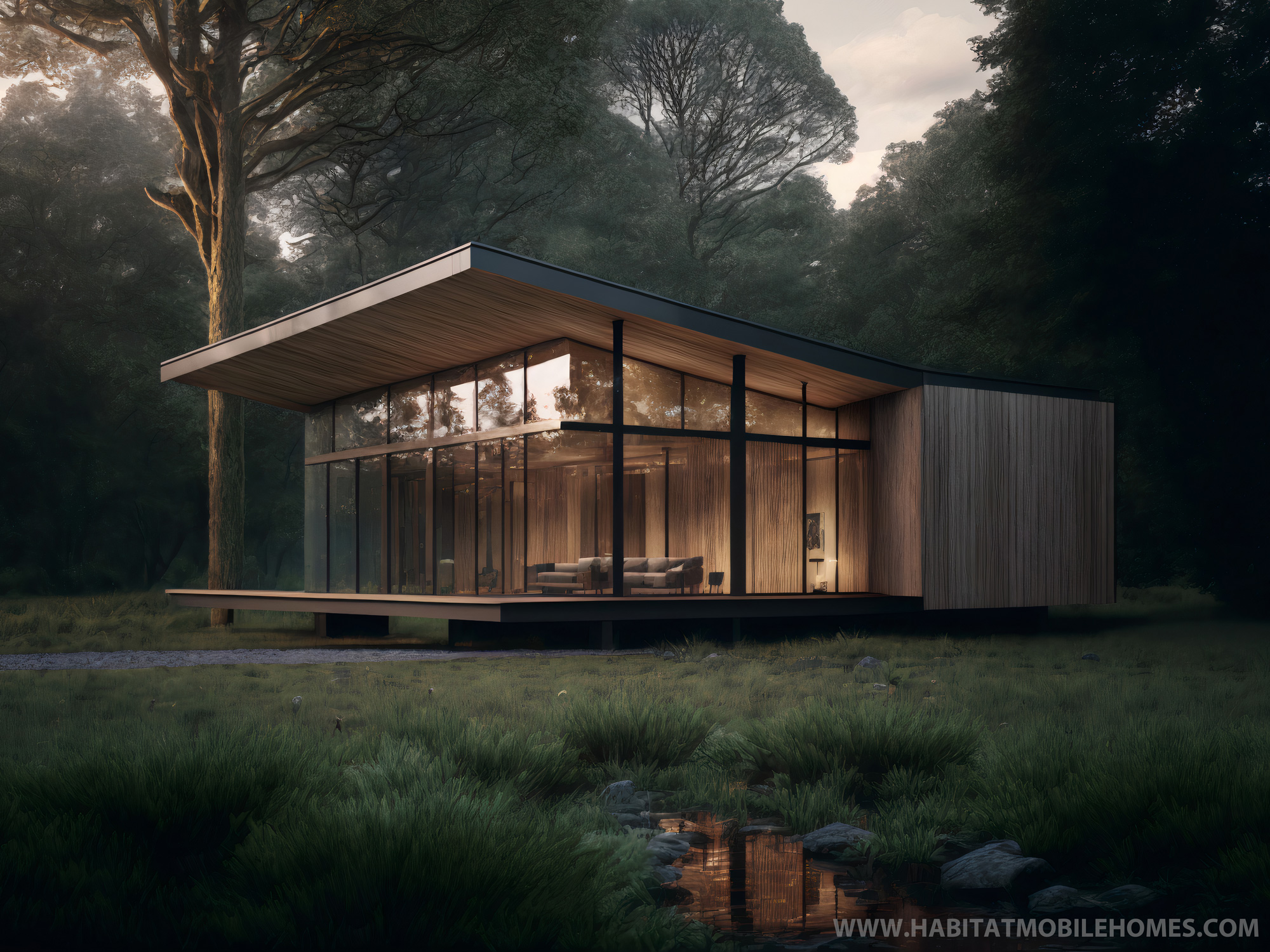 Design Features:
Gallery Curtain Wall Glazing.

Mono-Pitch Roof Design with Extended Overhang / Porch.

Cedar Cladding Running External to Internally.
If you're looking to bring a little bit of the countryside into your home, then a mobile home with a fully glazed wall may be the perfect solution. These homes offer stunning views of the surrounding landscape, as well as plenty of natural light that can help to create a bright and welcoming atmosphere.
But it's not just the views and natural light that make these homes so special. They also offer a number of other benefits that make them an attractive option for those looking to build a home in the countryside.
One of the biggest advantages of these homes is that they can be delivered from us nationwide, either fully finished or as a kit build. This means that you can have your dream home delivered right to your doorstep, no matter where you are in the country. And if you prefer to build your own home, our kit build options allow you to customize every aspect of your home, from the floor plan to the finishes.
Another benefit of these homes is that they may not require planning permission to be sited in a garden, as they are classified as caravans. This can save you a lot of time and hassle, as you won't have to deal with the lengthy and often complicated process of obtaining planning permission.
Finally, our prices are extremely competitive, making these homes an affordable option for those on a budget. We also work with self builders and developers, so we can help you to create the home of your dreams at a price that fits your budget.
Overall, if you're looking for a home that offers stunning views, plenty of natural light, and a range of other benefits, a mobile home with a fully glazed wall is an excellent choice.
Floor Plan Ideas:
Modern Mobile Homes:
Enjoy the Countryside with a Fully Glazed Mobile Home
Blog Introduction: Looking to enjoy the countryside with a new mobile home? Adding a fully glazed wall to your mobile home is an excellent way to experience natural beauty and light. With extended overhang, cedar cladding, and various other options, there are plenty of ways to make your mobile home one of a kind. And don't worry about planning permission - these homes fall under the definition of a caravan! Read on to learn more about why you should choose a fully glazed mobile home for your next holiday.
Benefits of Having a Fully Glazed Mobile Home in the Countryside
A fully glazed wall in your mobile home can provide unparalleled views of the beautiful countryside. Natural light floods into the space, making it feel even more open and inviting. The mono-pitch roof design also allows for an extended overhang that provides shade and protection from harsh elements like rain or snow. An additional benefit is that cedar cladding runs both externally and internally so you can enjoy the unique look both inside and out.
Getting Started with Your Fully Glazed Mobile Home
With Gallery Curtain Wall Glazing, you can get started on building your dream mobile home right away! At Gallery Curtain Wall Glazing, we have low prices that make it easy for customers to find what works best for their needs without breaking the bank. We offer fully finished designs or kits that allow customers to be their own builders as well as work with developers or self-builders who prefer to customize their projects.
If you're looking for an amazing way to experience the countryside in style, consider getting a fully glazed mobile home from Gallery Curtain Wall Glazing today! We offer low prices so that everyone can get exactly what they need at an affordable price point. Plus, you won't need planning permission because these homes fall under the definition of caravans - giving you peace of mind when it comes time to set up shop! So don't wait any longer - get started building your dream mobile home today!