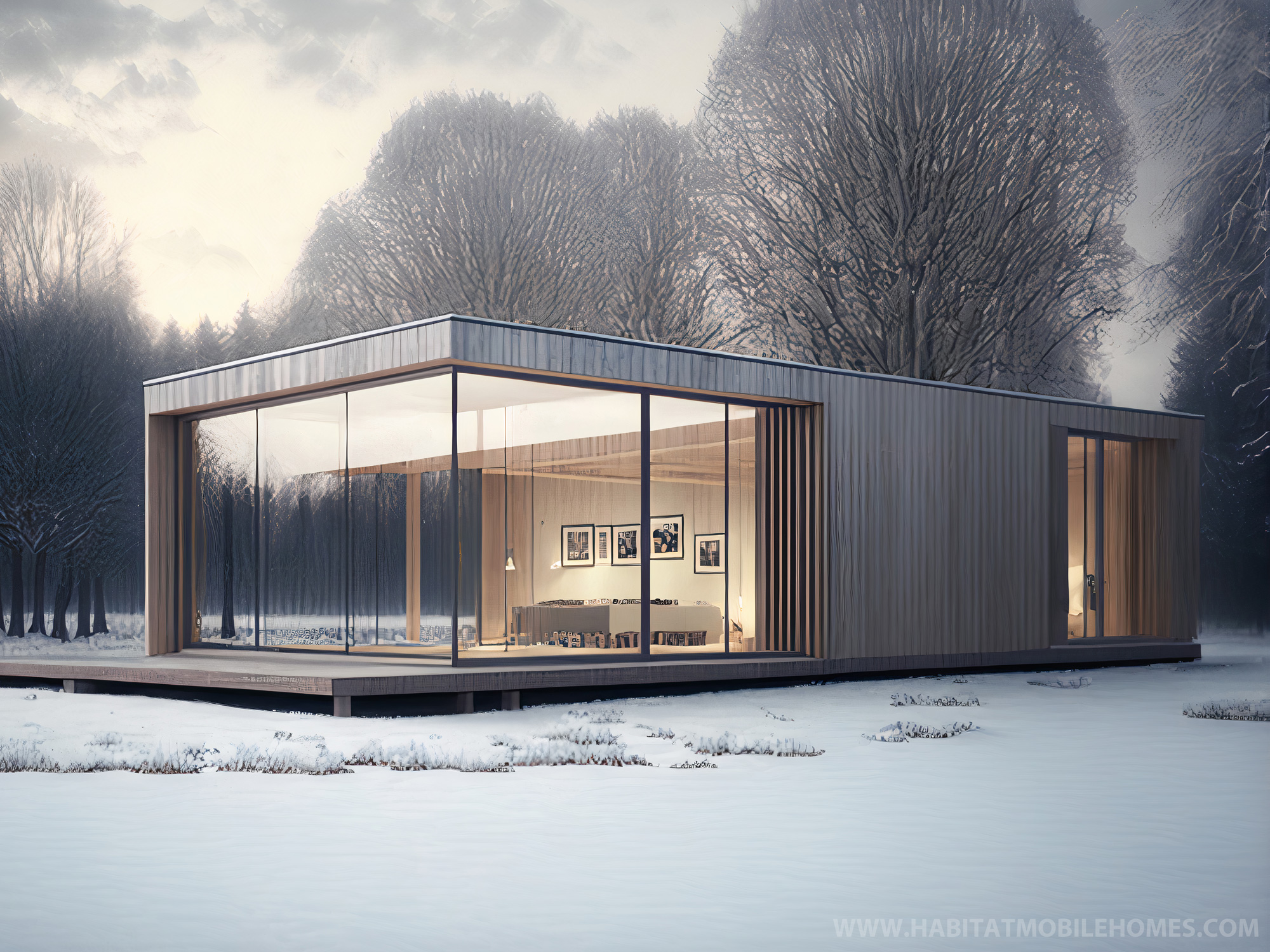 Design Features:
Minimalist Design.

Flat Roof with No Soffit or Fascia

Glazed Corner Feature with Slim Profile Sliding Doors
If you're lucky enough to have a large garden or live in the countryside, a mobile home can be a fantastic way to make the most of your outdoor space. These homes offer a range of benefits that make them an attractive option for those looking to add a little extra living space to their property.
One of the biggest advantages of a mobile home in the garden is the stunning views that it offers. With large windows and doors that offer a panoramic view of the surrounding landscape, these homes are the perfect place to relax and take in the beauty of your surroundings. And with plenty of natural light pouring in through the windows, these homes are bright and welcoming, creating a comfortable and inviting atmosphere.
But it's not just the views and natural light that make these homes so special. They can also be a great way to increase the value of your property, as a large residential annexe can be a major selling point. And with a range of designs and finishes to choose from, you can create a home that perfectly matches your personal style and taste.
And if you're worried about the hassle and expense of building a home from scratch, you'll be glad to know that these homes can be delivered from us nationwide, either fully finished or as a kit build. This means that you can have your dream home delivered right to your doorstep, no matter where you are in the country. And if you prefer to build your own home, our kit build options allow you to customize every aspect of your home, from the floor plan to the finishes.
Floor Plan Ideas:
The Benefits of Adding a Mobile Home to Your Garden
Have you ever considered adding a mobile home to your garden? If not, now might be the time to think about it. Mobile homes are increasingly becoming more popular due to their affordability, small footprint and modern design. Not only do they provide extra space for guests or family members, but they can also add value to your property if done correctly. Let's take a look at why adding a mobile home to your garden could be the best decision you make this year.
Beautiful Design & Natural Light
Modern-day mobile homes have come a long way since those of decades past. They now feature minimalist designs with clean lines and beautiful features like glazed corner features with slim profile sliding doors. Additionally, these homes often come with flat roofs that don't require soffits or fascia—making them ideal for gardens with limited space. Furthermore, these types of homes also offer plenty of natural light due to their large windows and doors, allowing in an abundance of natural sunlight during the day and providing stunning views from within during the night.
Affordable & Quick Installation
Another great benefit of adding a mobile home to your garden is that it's relatively inexpensive compared to other options like building an extension or buying another house outright. Additionally, many companies offer mobile homes that come as either completely finished pieces or as kits that can be put together quickly and easily by yourself or with help from professionals. Depending on what you choose, installation typically takes less than 2 days!
No Planning Permission Needed
Mobile homes also don't require planning permission because they fall under the definition of 'caravans' according to British law (assuming they meet certain size requirements). This means that you can install yours without having to worry about dealing with lengthy applications and paperwork. You can even move it around if needed, which makes it even more convenient for those who want flexibility when it comes to location.
Adding a mobile home to your garden is quickly becoming one of the best ways for homeowners and developers alike to increase their property value while also getting extra space for guests or family members. The beauty lies in its affordability, minimalistic design and quick installation process—all without needing planning permission! Plus, many companies offer low prices and are willing to work closely with self-builders throughout the whole process from start to finish. So why not consider adding one today? It could be the best decision you make this year!