Key Cabin Mobile Home
Duel Aspect Glazed Gable with Recessed Porch under a Combination Roof.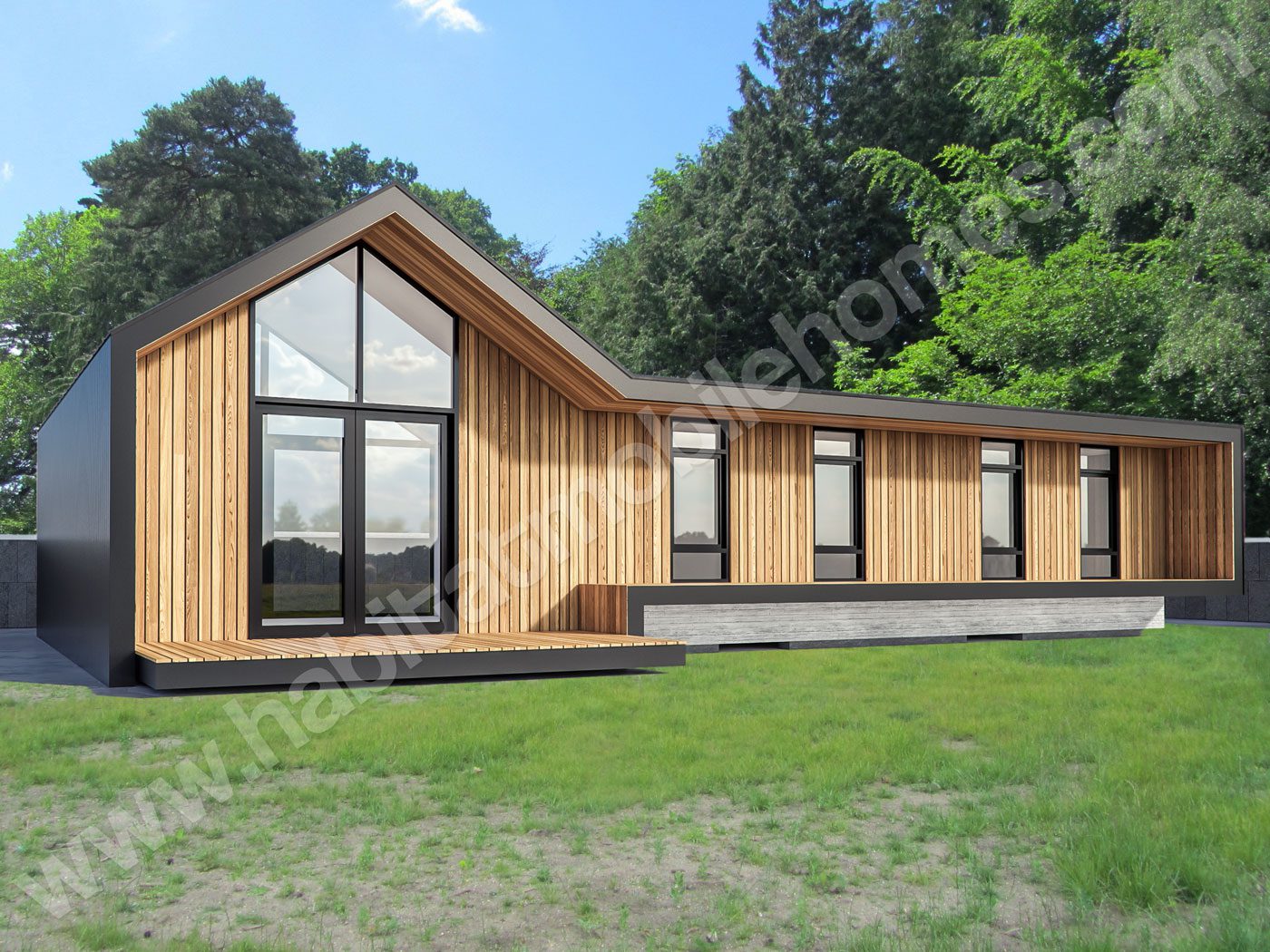 Features:
duel aspect glazed gable

vertical cladding feature

recessed porch

floor-to-ceiling windows
Habitat Mobile Homes Ltd. is proud to offer this fun design featuring duel aspect glazed gable vertical cladding feature recessed porch floor-to-ceiling windows as a design feature in our homes. This unique feature allows for natural light to enter the home, as well as providing ventilation and views. The recessed porch provides a sheltered area for entry into the home, while the floor-to-ceiling windows allow for an abundance of natural light. This feature is available in a variety of styles and materials, making it a versatile option for any home. Contact us today to learn more about this unique design feature!
The raised tie sheet metal continuous roof and wall feature is very modern and slick. It provides excellent protection against the elements. This design feature is perfect for those who want to enjoy the outdoors without having to worry about maintenance. In addition, raised tie sheet metal roofs are also very easy to clean and art doesn't weather. As a result, they are an ideal choice for those who are looking for a low-maintenance option. If you are interested in exploring this design feature further, please contact Habitat Mobile Homes Ltd today.
The thing that makes this design so special is the combination of a pitch and a flat roof. This gives the mobile home a unique look that is sure to turn heads. But it's not just the looks that are appealing; the design is also highly functional. The pitch roof provides excellent light, while the flat roof gives you a great place to enjoy the outdoors if want a roof terrance. The home also features plenty of windows, which let in plenty of natural light. And if you're looking for a bit more privacy, there are several options for adding shades or curtains. Overall, this is a mobile home that has it all: style, function, and comfort. If you're in the market for a new home, we highly recommend giving this one a closer look.