At Habitat Mobile Homes Ltd, we are committed to upholding a few key principles in everything we do. First and foremost, we specialize in building and assembling mobile homes and static caravans on site, even in hard-to-access locations. This allows us to deliver a higher build quality and lower cost, while also ensuring that each home is built to meet the specific needs and preferences of our clients.
In addition to our on-site building and assembly services, we also strive to create homes that are more like traditional houses than caravans. We use prefabricated sections, similar to those found in a conventional timber frame building, and include features such as a breather membrane and batten system to create a cavity in the external walls, insulation values that meet or exceed building regulations, and walls, floors, and roofs that are over 30cm thick.
Finally, we are dedicated to creating bespoke homes that are unique and meet the individual requirements of each client. From the external finishes like cladding, windows, and roof tiles to the internal finishes like flooring and kitchens, we work with our clients to design and build a home that reflects their personal style and meets their needs.
If you're interested in adding a mobile home or static caravan to your property, we would be happy to work with you to bring your vision to life. Contact us today to learn more about our services and to start discussing your project.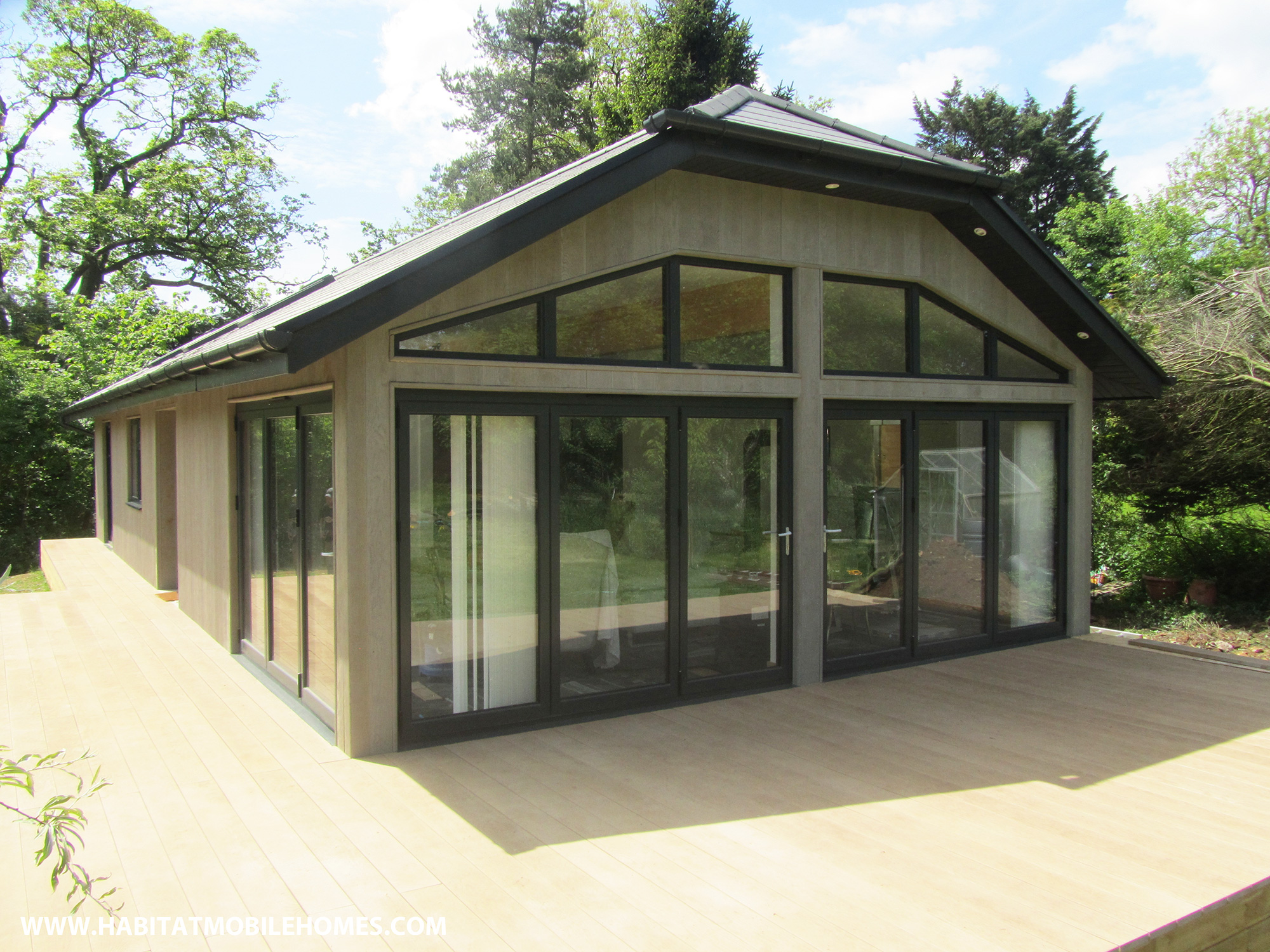 Bespoke design and finish.
All our homes are bespoke. This means you choose:
The Floorplan designed to your specific layout and orientation.

Windows and doors which are designed to your requirements and those of the location.

The external cladding and roof styles

All internal finishes ie almost any product from any supplier.
Habitat provides a comprehensive conformity report.
At Habitat, we understand that navigating the laws and regulations surrounding mobile homes can be complex and overwhelming. That's why we provide a comprehensive conformity report with every home we build. Over the past 15 years, we have assembled over 70 large mobile homes on site and have become experts in the field, so you can trust that your home will be built to the highest standards and in compliance with all relevant laws and regulations.
Our conformity report is over 50 pages long and includes detailed information about our construction methodology as well as unique engineering calculations that demonstrate the mobility of the structure. This ensures that our customers never have to worry about explaining how or why their home conforms to the Caravans Act.
We are proud of our tried and tested methods, which are among the best in the industry, and we are committed to providing our customers with the peace of mind that comes with a totally comprehensive compliance report. If you're interested in building a mobile home with Habitat, we would be happy to discuss our conformity report and answer any questions you may have.
Timescales:
We understand that building a new home is an exciting but also time-consuming process. That's why we have developed a streamlined manufacturing process that allows us to complete a full-size mobile home within a timeline of 3-4 months. This includes 1 month for design and frame production and 8-14 weeks on site to finish the home.
Our process is divided into three phases: frame, external finish, and internal finish. During the first phase, we design, manufacture, and assemble the timber frame structure. In the second phase, we focus on the external finishes, including cladding, windows, roofing, soffit and fascia, and rainwater goods. Finally, in the third phase, we complete the internal finishes, including plumbing, electrical work, plastering and decorating, and carpentry.
We are committed to creating homes that are not only functional and practical, but also aesthetically pleasing and able to stand the test of time. Our build regulation structural timbers and construction methods give our homes a significantly longer lifespan, making them a great investment for year-round residential use.
If you're interested in learning more about our manufacturing process or seeing one of our show lodges in person, we encourage you to book a viewing at a location near you. We look forward to helping you build the home of your dreams.