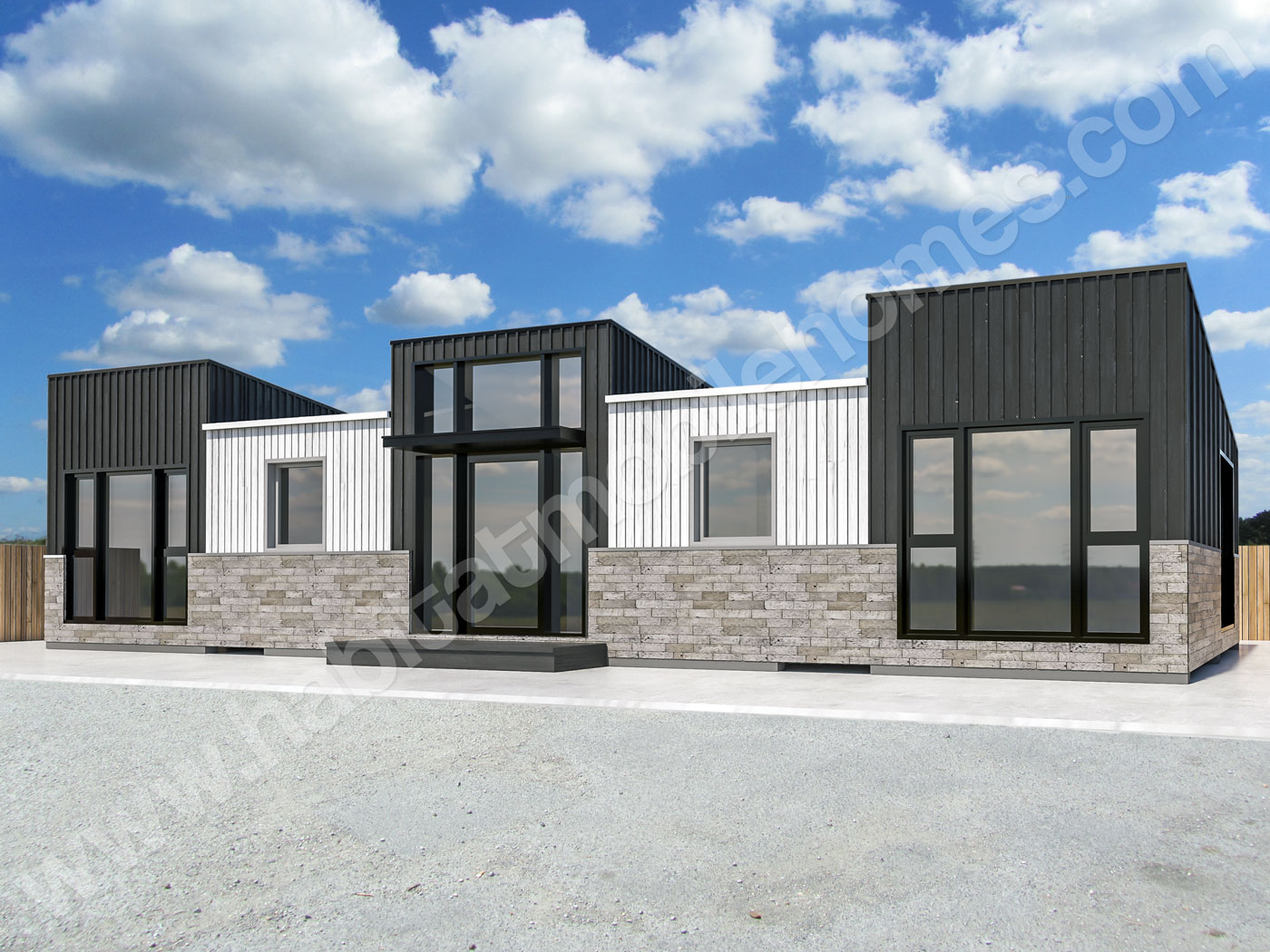 Our Mobile Homes
Our fundamental principles are;
1-        Hard-to-Access on-site building and legal specialists for mobile homes and static caravans.
2-        A finished build which is more like a normal house than a caravan.
3-        Bespoke – each completed build is unique and complies with the client's individual requirements
We assemble each home on-site from a timber frame kit, they are not finished in a factory and delivered on a truck. Assembling mobile homes on-site allows for a higher build quality and lower cost. It also enables us to access hard to reach sites.
Most commercially manufactured Mobile homes are made in a factory and delivered to site fully finished. You see them going along the motorway on the back of lorries! Our mobile homes are not like that. They are assembled on-site in smaller prefabricated sections; much like a conventional timber frame building. This allows us to access hard to reach back gardens and also enables a higher build quality with greater structural integrity
Compare the similarity between our homes to Conventional New Build Housing - not log cabins or commercial mobile homes.
Our mobile homes are similar to new building regulation residential housing in that we use:
140mm external stud work timber
breather membrane and batten system to form a cavity for external walls. Most commercial caravan manufacturers apply their external finish direct to the frame with no cavity.
Insulation values are normally the same or above those required for building regulations (a foam-back plasterboard internally is required for full Building Regulation conformity).
on completion the Walls, Floor and Roof are each over 1ft (30cm) thick. The same as a normal house.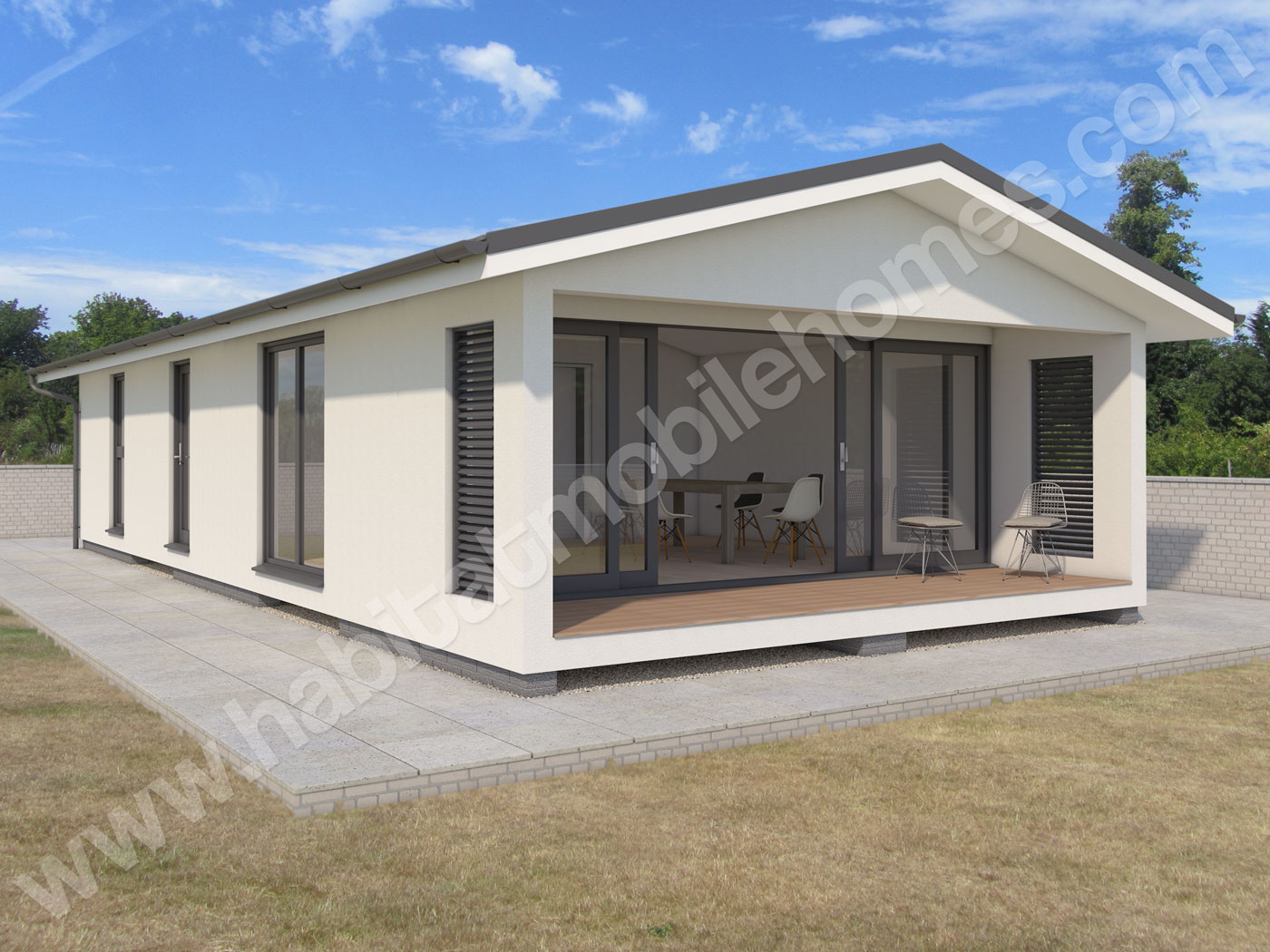 Bespoke design and finish.
All our homes are bespoke. This means you choose:
The Floorplan designed to your specific layout and orientation.
Windows and doors which are designed to your requirements and those of the location.
The external cladding and roof styles
All internal finishes ie almost any product from any supplier.
Lots of different names for a 'mobile home' but they are all 'caravans'!
Mobile homes are technically regarded as 'Caravans'. There are touring caravans, Motor homes, static caravans, twin unit mobiles. These are all caravans. You will also hear the terms 'Park home' 'leisure lodge' 'log cabin'. These are not legal definitions. We strictly don't use the term 'log cabin' in legal or planning terms because it neither refers to a mobile home or a building regulation dwelling. We use the term 'mobile home' because this refers to static caravans and twin unit mobile homes.
Not a Building
It is important to understand, in regulatory terms, mobile homes are not 'Buildings' or 'Development' or 'Construction'. Laws and regulations for building do not apply to caravans. Laws and regulations like building regulations and VAT regulations that apply to buildings do not apply to caravans. Caravans have VAT and manufacturing standards that are separate from those governed by building regulations and the Town and Country Planning Act.
Building regulations do not apply to mobile homes.

All mobile homes are technically caravans.

Mobile homes don't have to have wheels.

Caravans could be built on-site with no regulations.

Twin unit mobile homes can be assembled on site with regulation
Habitat provides a comprehensive conformity report.
Over the past 15 years, having assembled over 70 large mobile homes on-site, we are experts in the specialist Laws and Regulations. Each mobile home comes with a conformity report, over 50 pages. The report includes our construction methodology and the unique engineering calculations showing the structure's mobility. Our tried and tested methods are almost certainly the best in the industry. The customer is never left to explain how or why the structure conforms to the 'Caravans Act' . Our Compliance report is totally comprehensive.
Timescales:
Our timescale is normally 3-4months to build and finish a a full size mobile home. 1 month in design and frame production and 8-14 weeks on-site, finishing the home. We make the timber-frame-building panels in our factory, which are assembled on-site to make the structural frame. The external and internal finishes are both completed onsite.
There are 3 phases to the manufacturing process. These are:
Phase 1: Frame. Design, Manufacture, Delivery and Assembly of the Timber Frame Structure.
Phase 2: External Finish. Cladding, Windows, Roof, Soffit and Fascia, Rainwater-goods.
Phase 3: Internal Finish. Plumbing, Electrics, Plasterboard and Skim, Carpentry and Decorating.
They Look Great. 'Wow' Factor Design.
Everyone owners wants it. We do our best to provide it but using the same materials and finishes as you find on conventional housing.
Year-Round-Residential Use
Assembling the unit onsite does allow for a higher build quality. The wall thickness and insulation values
Last Lifetimes
The combination of build regulation structural timbers and constriction methods gives our homes and significantly longer life span.
SEE FOR YOURSELF - BOOK A VIEWING AT A SHOW LODGE NEAR YOU