Pine Gallery Mobile Home
Open Plan Workspace. Full Height Glass with Shutter Feature.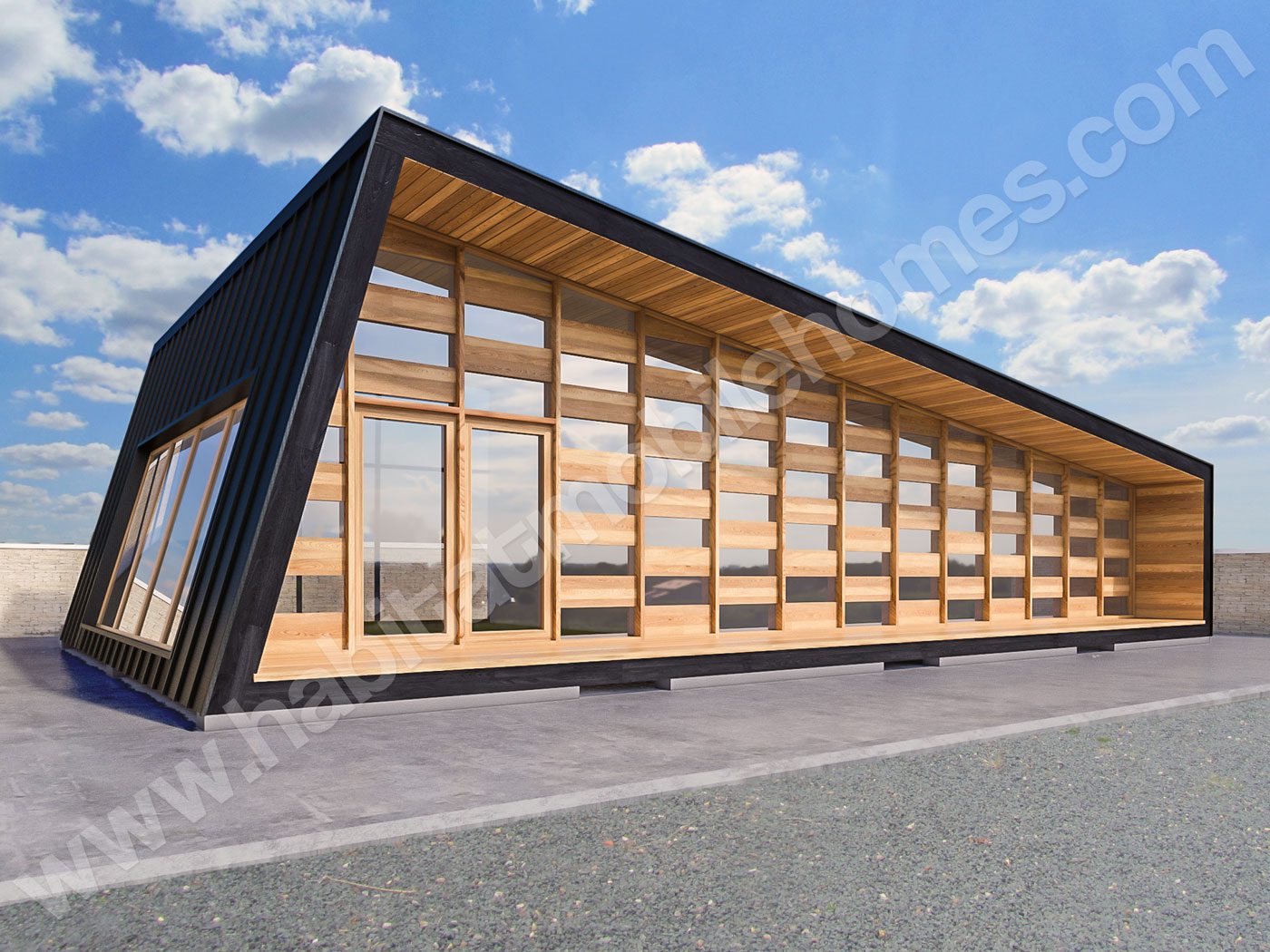 Features:
maximum light

angled walls

recessed porch

shuttering feature
This design makes a great choice for a home studio or creative workshop. The abundance of glass allows for plenty of natural light, making it ideal for painting or sculpting. The open layout also provides ample space for stretching or practicing yoga. In addition, the large windows offer stunning views of the surrounding landscape, inspiring creativity and promoting relaxation. Whether you're an artist, a yogi, or simply someone who enjoys the outdoors, this design is sure to please. Contact Habitat Mobile Homes Ltd today to learn more about this one-of-a-kind home.
If you're looking for a mobile home that's truly unique, Habitat Mobile Homes Ltd is the builder for you. We specialize in creating homes that are totally different from the cookie-cutter homes you see in commercial parks. Our homes are designed with style and sophistication in mind, and they come loaded with features that will wow your friends and family. From sleek modern kitchens to spacious bedrooms and luxurious bathrooms, we can custom-build a home that's perfect for your needs. And because we're a UK-based company, you can rest assured that our homes meet all the latest safety and building standards. So why settle for a boring old mobile home when you could have a Habitat Mobile Home that's unlike anything else on the market? Contact us today to learn more about our design process and how we can turn your dream home into a reality.
Mobile homes are becoming increasingly popular in the UK, as more people look for cost-effective and convenient housing solutions. Habitat Mobile Homes Ltd is a leading builder and manufacturer of mobile homes in the UK, and we are proud to offer our customers a wide range of design features to choose from. One of our most popular design features is angled walls and roof designs. Angled walls create a sense of space and light within the mobile home, and they also produce alternative designs. Another popular feature is the recessed porch. The recessed porch provides an extra level of protection from the elements, and it also creates a sense of privacy and security. Finally, the shuttering feature is a unique design feature. Whether you're looking for a cosy retreat or a spacious family home, Habitat Mobile Homes Ltd has the perfect solution for you.