PLANNING DRAWINGS – BASIC £175 including VAT. 
A basic scaled 4 side elevation and floor plan drawing suitable for most planning applications, from sketch provided by client including windows. Costs will be deducted from the price of your build if you choose to order with us.
Floor Plan (scaled)

Elevations (scaled)

Groundworks Setting Out Diagram (scaled)
Mobile homes have come a long way in recent years and are now a popular choice for homeowners looking for an affordable, convenient way to live. Habitat Mobile Homes Ltd offers a complete design service, creating elevation drawings, floor plans and ground-works setting out diagrams to meet your specific needs. We have a wide range of mobile home floor plans to choose from or we draw bespoke plans specifically fo r your home. With our experience and expertise, we can help you create the mobile home of your dreams. Contact us today to learn more about our services and mobile home floor plans. We look forward to helping you turn your dream home into reality.
All plans are delivered as a PDF.
The very first stage with us is to decide what size mobile home you require. Measure the plot. Work out your budget. Think about the living areas and facilities your needed. You can download a scaled design template to sketch in your draft.
The maximum size for a mobile home allowed under the regulations is 20 x 6.7 M (65x22FT). Nearly all our 'twin-unit' mobile homes are the full 22 FT width. Please remember our finished externals walls are 1ft thick. Twin unit mobiles homes from us need a wall running down the center of the build for at least 30% of the length.
For self builders we don't supply just exterior walls and totally open inside. We need to include all the internal walls. You cannot make 'L' shapes. The overall size needs to fit within a 20 x 6.7M footprint. The roof can run over this size.
Please include a basic idea of your windows on the design template. Crude drawings are fine, we just need to get a basic understand of your requirements. Camera photo and texting your design sketch is acceptable. Scan, email or post.
TIPS: Look at our existing floor plan and you will see most designs have bedroom either to the left or right. Looking at your intended location there will often be a front side with the view and a rear, often against a boundary. First determine which side you want the bedroom and which is the rear side. The rear side often will have the corridor, leaving a smaller room for bathrooms, studies etc. The rooms on the other side of the corridor are larger and often used as the bedrooms. We can work designs around this basic data.
Here you can download our design templates
Click to download our design templates and design your own Mobile Home.
65ft Floor Plan Template with Elevations - 1:100 Scale @A3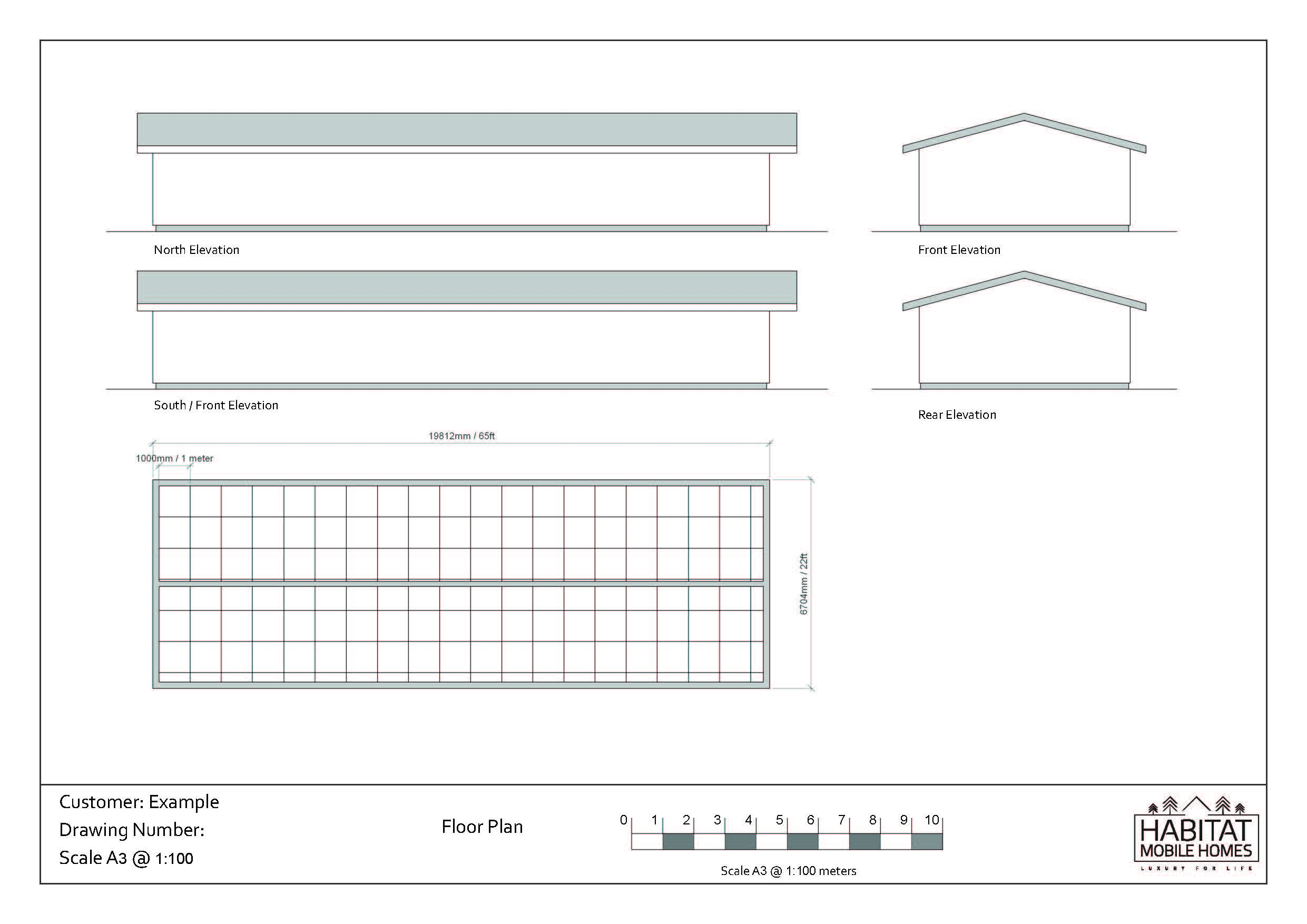 65ft Floor Plan Template - 1:50 Scale @A3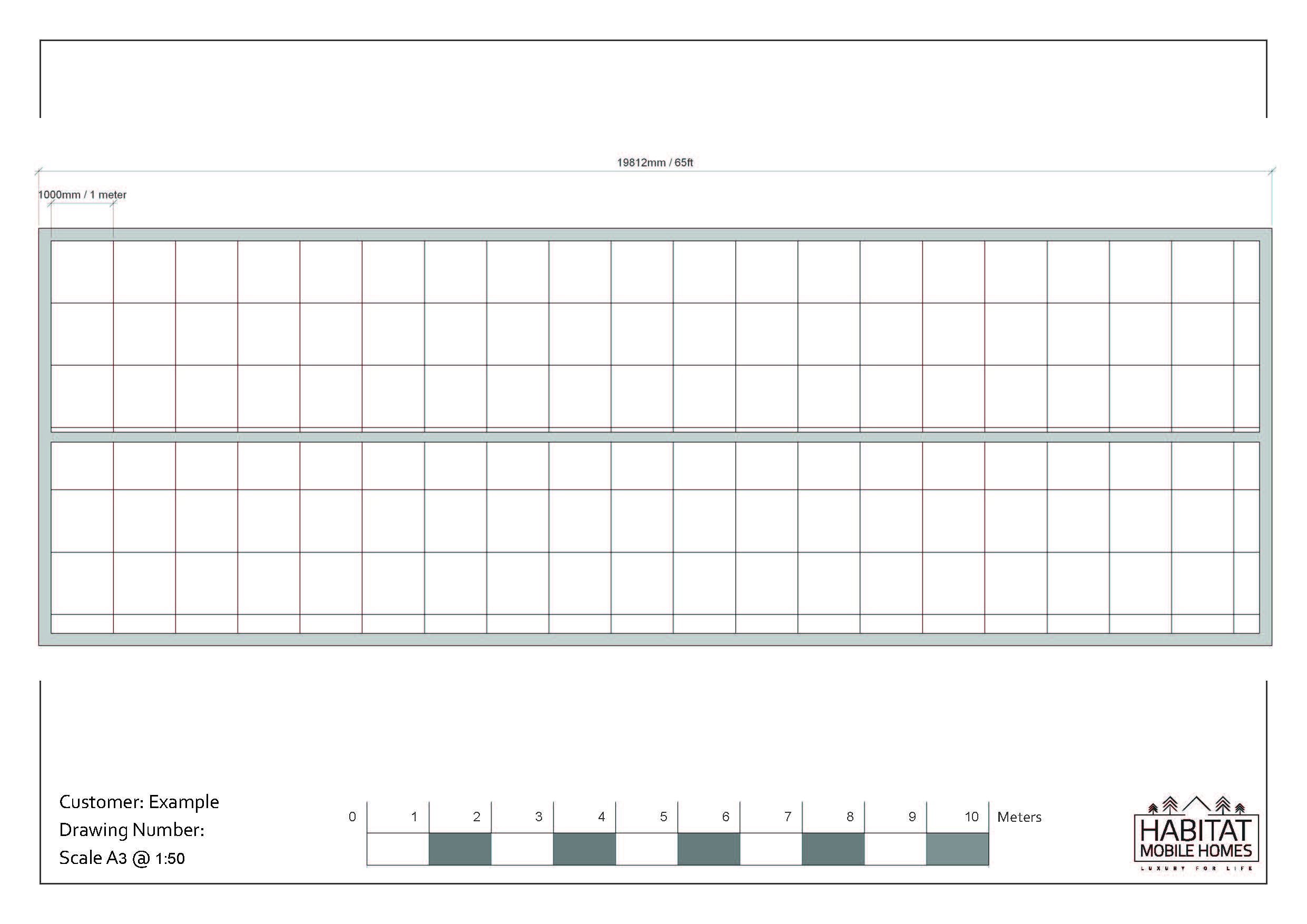 45ft Floor Plan Template with Elevations - 1:100 Scale @A3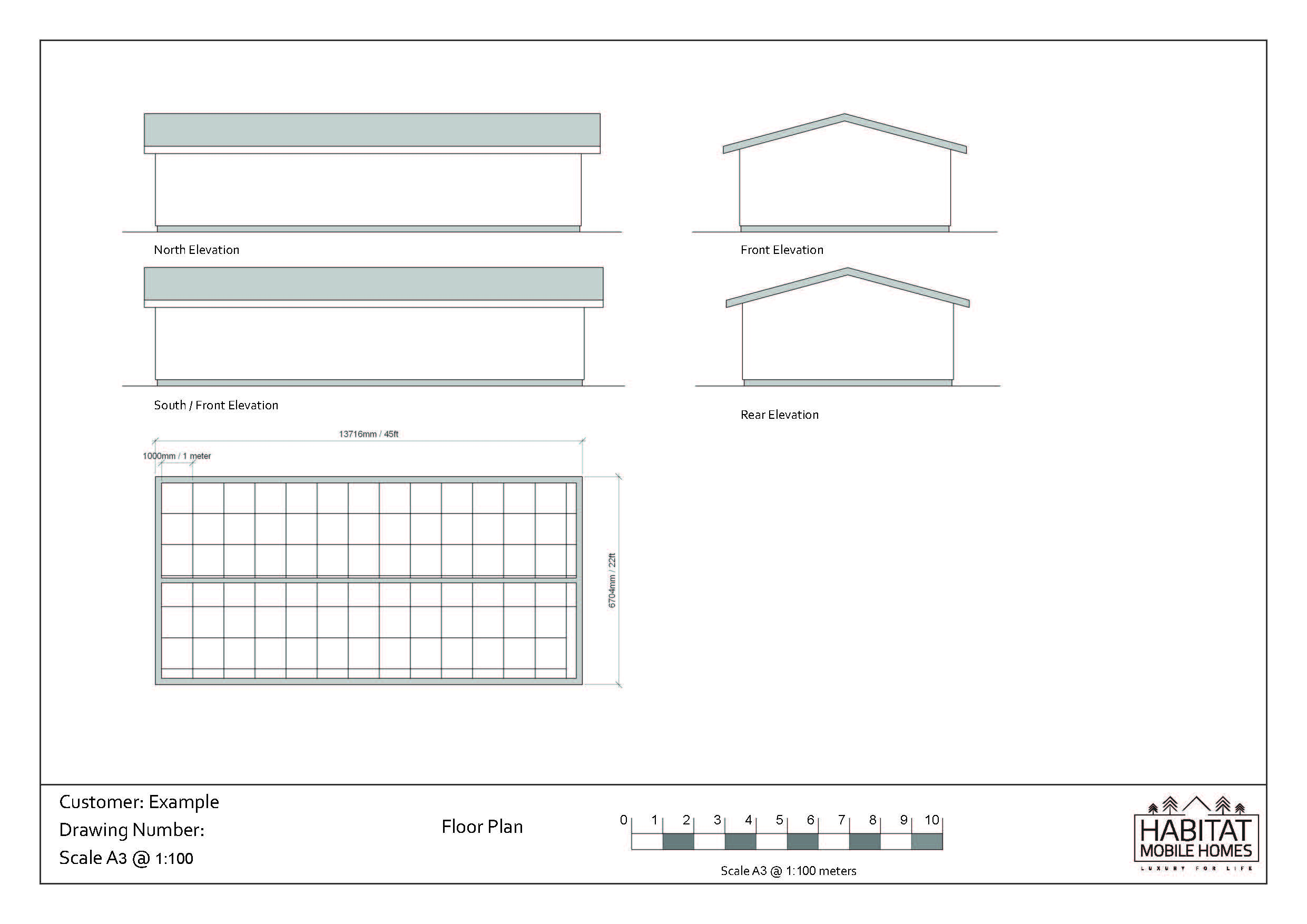 45ft Floor Plan Template - 1:50 Scale @A3