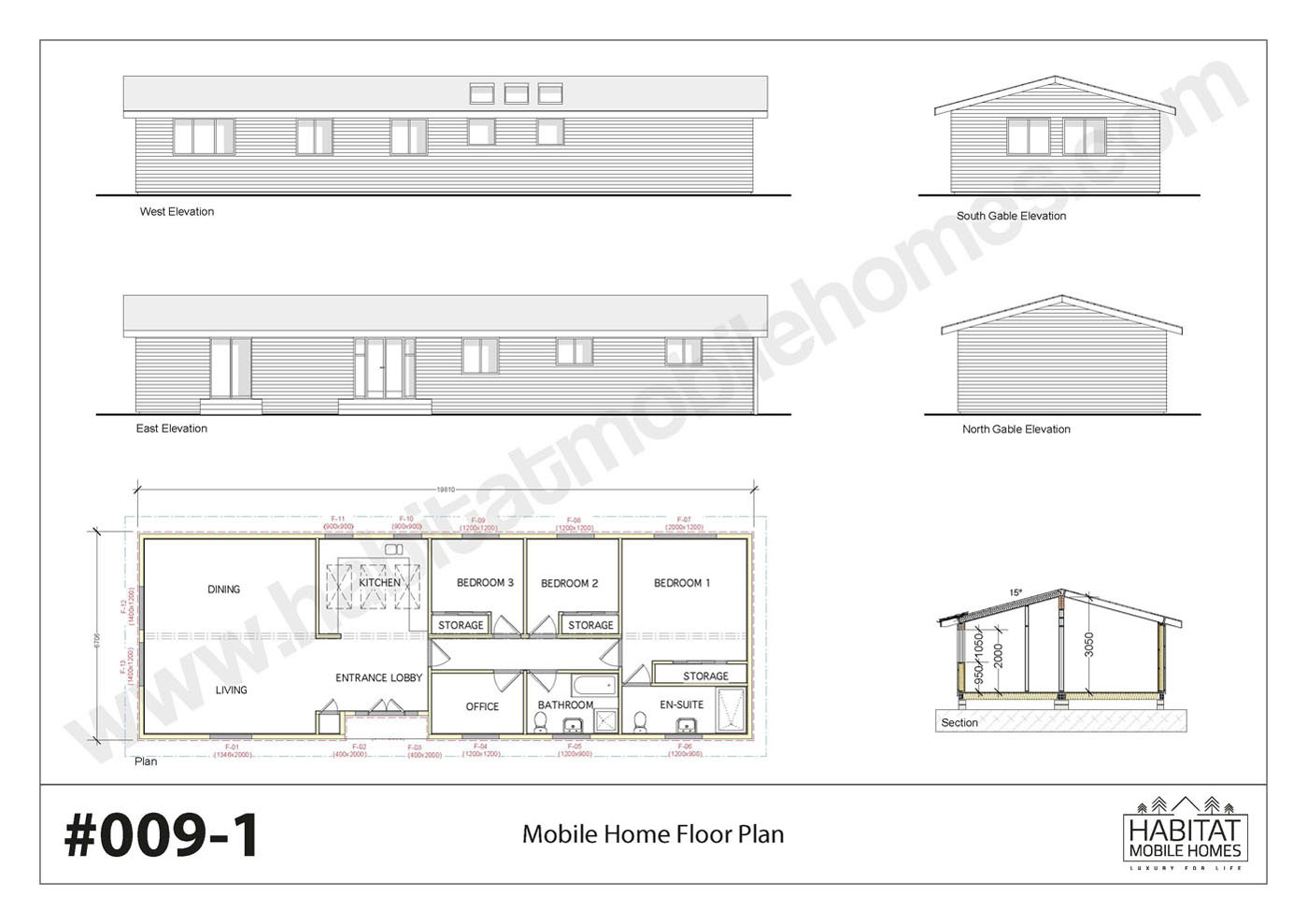 | | | |
| --- | --- | --- |
| SIZE | WIDTH | LENGTH |
| METERS | 6.7 | 19.8 |
| FEET | 22 | 65 |
Each bespoke mobile home is designed and finished uniquely to the customer's requirements. Different budgets represent different finished costs. The same floorplan design can have varying finished prices depending on the materials chosen, such as the cladding, windows and roof tiles and also internal finishes like the choice of doors and flooring. Below are a selection of example prices showing a variety of finishes:
Price 1: Structural Frame. This is the price for just the design, manufacture, delivery and assembly of the structural timber frame.
Price 2: Basic Good Quality Finish
Price 3: 'New England Style' Popular High Quality Finish
Price 4: Top Specification Gold Finish.
TIMBER FRAME PRICE
The timber frame building refers to the structural frame of the home. It includes our timber chassis design, internal and external walls and roof. The entire structure is boarded and wrapped in breather membrane (wind and water tight). Each frame is supplied FULLY INSULATED with high specification mineral wool insulation. As the industry's leading supplier of kit build mobile homes, each unit comes fully compliant with the 'Caravan Act' regulations.
BASIC GOOD QUALITY FINISH
The basic finish includes the same frame and insulation values as all our homes but has cheaper materials inside and out. The roof tile is a bitumen shingle. The heating system is plug in electric radiators. Carpet flooring and basic kitchen both keep the costs down on this economical specification model. The internal wall finish is plaster-boarded and plaster skimmed, just like a normal house. Economical materials in places but still a good specification building regulation quality home.
HIGH QUALITY 'NEW ENGLAND' FINISH
Our popular 'New England' Finish features Weatherboard cladding in a choice of pastel colours, coupled with white woodgrain effect windows, soffit and fascia. A maintenance free long life finish. The roof tile is 'Metrotile' a popular and good quality rolled metal tile with shingle finish. Internal finish is high with oak laminate flooring and good kitchen budget. The heating system is a combination boiler for oil or gas with wet system radiators and on-demand hot water.
TOP SPECIFICATION GOLD FINISH
Stylish Composite Windows account for a large proportion of the cost increase to gold specification. These luxury windows and doors are timber on the inside and aluminium on the outside, painted in any colour, they truly add 'wow factor' to both internal and external appearance. The roof finish is slate or clay tile, the same as those available for a house. Exterior cladding is a combination of render, natural stone or real slip bricks. Utilising the latest architectural finishes and features. Internal finishing budgets are generous allowing a superb choice of luxury materials and products. Better quality than new building regulation house.